(Taken from source)
In Search of Respect, Selling Crack in El Barrio
by Philippe Bourgois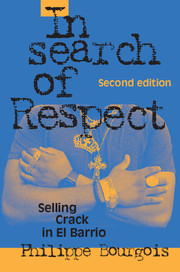 The mayor of New York City from 1993 to 2001, Rudolph Giuliani, became known worldwide for promoting a zero-tolerance approach to petty crime, implementing the notorious "fixing broken windows" policy (Kelling and Coles, 1996). He targeted "quality-of-life crimes," which meant aggressively arresting beggars, window washers, fare dodgers on the subway, and black and latino youth dressed in hip hop style who loitered on the street.
This policy came at a high cost in human rights violations due to a dramatic increase in racially targeted police brutality culminating in public scandals, such as the torture of a Haitian immigrant who was repreatedly sodomized with a broken brrom stick by police interrogators in a precinct office, and the murder of an unarmed Guinean immigrant who was shot forty-one times in the foyer of his own apartment building.
New York's get tough-on-crime policy was also extraordinarily expensive. The number of New York City police dramatically increased by more than 7,000 officers in the 1990s to 40,000, the largest in its history, even as the budgets for health, education, foster child care, public education, and so on were streamlined. During the 1990s, New York State spent more than $4.5 billion building new prisons. This figure does not include operating costs, which in 1998 ran $32,000 per inmate per year in the upstate prisons and more than $66,000 per capita per year on Riker's Island, New York City's municipal jail (Camp and Camp, 1998)
Proponents of repressive drug enforcement policy point to significantly reduced crime rates in New York City during the late 1990s. They fail to note, however, that
New York did not lower its crime rate significantly more than those cities that did not criminalize street people or increase police arrest rates. In fact, statisticians have calculated that states that increased their prison populations the most in the 1990s benefited from a smaller reduction in crime rate than those states with below-average increases in incarceration (New York Times, September 28, 2000). Most importantly, crime in New York, as well as throughout the nation, had already begun dropping in the years before the New York City's mayor's get-tough-on-crime measures were instituted in 1994.
Policy analysts who crunch numbers argue that the overall improvement of the economy and the demographic shifts that have reduced the number of eighteen- to twenty-year-olds have had a far larger effect on decreasing crime rates than have changes in crime-control stategies (Blumstein and Wallman, 2000). Academic and statistical policy critiques notwithstanding, New York City policing became a triumphant symbol for neoliberal solutions to urban plight: "locking up petty delinquents and especially addicts" and "criminalizing misery" (Wacquant, 1999:74, 151). The unsightliness of the poor living in crisis was removed from white, middle class public space in the city. With the festering signs of social suffering safely sanitized, property values soared and tourism reached record highs.